Is your smile not as straight as you'd like it to be? Whether your teen needs advanced orthodontic care or you're looking to quickly fix crooked or crowded teeth without a huge time commitment, the team at Dant Sandras, DDS can help give you the smile of your dreams!
Invisalign®: The Clear Alternative to Braces


Want a straight smile without the hassles of metal braces? Invisalign aligner therapy can give you the straight teeth you want without anyone even knowing you're wearing braces.
Invisalign uses a series of clear, comfortable, plastic straightening trays that are changed out approximately every two weeks. These trays gradually and gently move your teeth into their perfect positions, giving you a smile you'll love to show off. The best part? The aligner trays are completely removable, so you can take them out to brush and floss your teeth and to eat your favorite foods. Braces don't have to get in the way of your social life anymore thanks to Invisalign!
Contact Dant Sandras, DDS now to learn more about Invisalign.
Six Month Smiles®: Straight Teeth in Just Six Months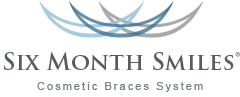 Get a straighter smile before your next cleaning with Six Month Smiles cosmetic braces. Six Month Smiles uses ultra-thin wires and tooth-colored brackets on only the teeth that show when you smile. Teeth are moved into more ideal positions in an average of just 6-9 months!
Six Month Smiles cosmetic braces are:
Safe and comfortable.
Barely noticeable.
More convenient, with few check-in and adjustment appointments.
Call today to schedule a cosmetic braces consultation.
Conventional Braces
Teens and adults with crooked or crowded teeth, or with misaligned bites, can benefit from conventional orthodontics. Advancements in materials have led to metal braces that are lighter and more comfortable than ever before. Traditional braces not only correct crowding or gapped teeth, but they also work on a structural level to move the roots and crowns of teeth to correct your bite and give you a more functional, as well as beautiful, smile.
Schedule your teen's orthodontic consultation now!